About Us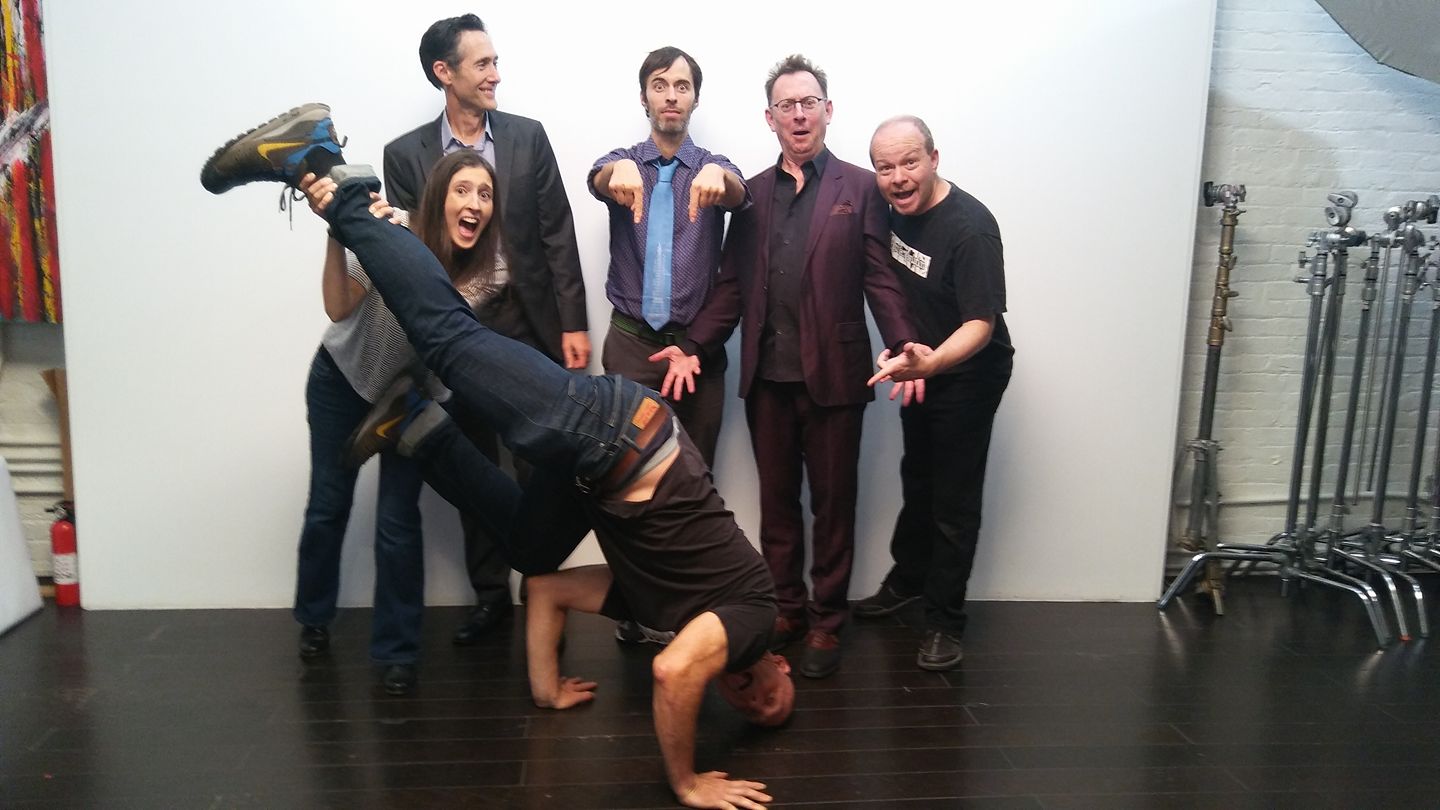 Board Members
Joe Gonzalez, Founder

Joe Gonzalez has spent his professional career in a multitude of fields including work in television, film, theatre, special events, design, and web development. Capable of wearing many hats, Joe has served as a Producer, Technical Director, Logistical Manager & Project Manager.

With an ever evolving passion to "make things happen", Joe has also been a tireless volunteer his whole life, having spent thousands of hours working with kids as a mentor and in school programs.

As an individual who spends nearly every day reading and learning more about global issues, he was eager to find a way to develop real solutions to some of the problems facing communities in developing countries.  Co-founding The Project Solution with Tara Bracco is just one step toward making a significant difference in the world community.

His philosophy is that we must change our perspective and understanding of our place in the world.  We don't live alone in a town, city or country, we are global citizens who live together on the same planet.  It is only when we see ourselves together that we can begin to work toward common goals and solutions.

Tara Bracco, Founder

Writer and producer Tara Bracco is the cofounder of The Project Solution and the founder of Poetic People Power, an art and social change project in New York City. For 20 years, she has worked in the nonprofit sector for arts and women's organizations.

She has been featured in O, The Oprah Magazine; Time Out New York; and The Huffington Post for her visionary leadership of Poetic People Power, which has commissioned 100 poems by 35 writers and produced 16 spoken word shows since 2003. As a journalist, her work has appeared in local and national publications including Condé Nast Traveler, Cosmopolitan, American Theatre, The Huffington Post, Brooklyn Based, The Brooklyn Rail, Clamor, and BUST. In 2015, she received the Images and Voices of Hope's Appreciation Award for her commitment to constructive change.

Kevin Yuhas, Board Member

Despite the fact that his job as a commodities trader paid a handsome salary, especially for a 25 year old, Kevin Yuhas quit his first job in search of something that satisfied his creative desires and sense of moral purpose. After a brief stint at the School of Visual Arts and founding an eco-conscious T-shirt printing company, Kevin discovered an untapped talent: teaching.

His early work within the New York City Department of Education as a substitute teacher eventually led to a position as a technology coordinator, a position which allowed him to apply his engineering skills and natural teaching abilities in order to integrate technology into school curriculum. After suffering a near fatal run in with an automobile, he returned to the Department of Education as a mathematics teacher in the largest Middle School in New York City. Drawing from his own personal life experience as a student of mathematics Kevin set out to teach mathematics in a manner "that allowed and encouraged students to take a more active role in constructing their understanding of the subject". His pedagogical practice caught the eye of the mathematics coach at his school who encouraged him to apply for a full tuition grant for the math leadership program at Bank Street College. Kevin was awarded the grant and over the next 4 years he discovered a venue in which to exercise his sense or moral purpose and natural talents as an educator.

During his career Kevin has taught children from Kindergarten to graduate school students. He has mentored many student-teachers and also worked as a mathematics coach for the Department of Education in an attempt to improve the quality of mathematics education by working with both teachers and school administrators. He firmly believes that "all students, regardless of their ethnic or socioeconomic background have the right to authentically understand the mathematics that they are (often poorly) taught in schools". An advocate for high quality and unbiased public education Kevin has served on the planning board of several schools including the Lyons Community School that was founded by a fellow cohort member at Bank Street.

Currently, Kevin works at The Shuang Wen School, a dual-language school in Chinatown. He teaches 7thand 8th grade students mathematics and is active in working with the student council. In 2007 he was awarded the Fund for Teachers fellowship grant and has spent time in Taiwan studying Mandarin so that he can both better serve the needs of his students and communicate with the non-English speaking members of the school community. Kevin has played a pivotal role in implementing the pilot program of The Ten-Cent Project Solution at the Shuang Wen School. In the future he hopes to help expand this wonderful program to schools throughout New York City.

Outside of his interests in issues related to social justice and equality in education, Kevin is an avid musician, breakdancer, and fan of the Arts in general. He enjoys learning new languages, travel, fitness, and meeting most anyone that is passionate about what they do and thinks "outside of the box".

Michael Mendiola, Board Member

Mike experienced first-hand some of the complex challenges facing developing countries while participating in a conservation program in Zimbabwe in 2006. This life-changing adventure reinforced his desire to support conservation efforts and to improve the lives of others.  Finding like-minded individuals in Joe, Tara and Kevin, he enthusiastically commits his support and skills to this incredibly forthright program.

Mike's professional career includes seven years in public accounting at Ernst & Young specializing in the non-profit, manufacturing, and healthcare industries; as well as, controller, CFO and consultant positions in video post-production, imports, investment banking and content publishing.  As a writer, his play based on the life of Sister Dorothy Stang—a nun assassinated in Brazil in 2005 for helping the impoverished peoples of the Amazon— was selected as a semi-finalist for the 2015 O'Neill Theater Center's National Playwrights Conference. Notable writing collaborations include the novel, Velvet Moon Chronicles, and the personal development book, What the Mountains Know.
Advisory Board Members
Michael Emerson

Michael Emerson began his career as a stage actor in regional theater where he was attracted to classical roles. His work on and off Broadway led to supporting parts in film and television where he has made a mark portraying damaged and dangerous characters on programs like THE PRACTICE and LOST. He has been twice honored with the Emmy Award. Michael holds an MFA degree from the Alabama Shakespeare Festival and lives in New York City with his wife, actress Carrie Preston.

Carrie Preston

With her bubbly persona and drive to perform, Carrie Preston has landed roles in everything from stage to the big screen to a starring role as Arlene Fowler, the red-headed sassy waitress in the Golden Globe nominated HBO series True Blood. Preston's breakout Outer Critics Award nominated turn as "Miranda" in George C. Woolf's Broadway production of Shakespeare's The Tempest with Patrick Stewart, led to roles in major television series such as LOST and Desperate Housewives along with scene-stealing turns in Duplicity with Julia Roberts and Clive Owen; Woody Allen's Vicky Cristina Barcelona; the Oscar nominated Transamerica, playing Felicity Huffman's sister; Alan Ball's Towelhead opposite Aaron Eckhart, the Daisy 3 Pictures' (her production company) film Ready? OK!, and the critically acclaimed independent film, That Evening Sun, with Hal Holbrook.

Rebecca Eldridge

Rebecca Eldridge has enjoyed a distinguished career in working with many of the country's most prestigious media and entertainment brands. Eldridge began her career in television and film production before moving into advertising and media, where she worked at Glamour, Redbook, Condé Nast Traveler, and Child magazines. Eldridge is currently Vice President, Marketing for NCM Media Networks where she develops marketing campaigns for brands spanning on-screen, online, social media and mobile platforms. In this capacity, Eldridge also spearheads marketing initiatives with the nation's leading film studios and broadcast and cable networks, developing promotional campaigns with movies and television shows.

Beyond her media experience, Eldridge has been a freelance writer and an active supporter of animal welfare and children's causes.  She has served as the long-standing Production Manager for the Michael Awards, which recognizes the fashion industry's top editors, designers and models, and benefits the National Children's Leukemia Foundation.  Eldridge is a graduate of the University of Alabama and credits the university with developing her interest in international culture, history and travel.

Bill Ohl

Bill is grassroots educator and writer. He is one of the Founders of MS/HS 223, The Laboratory School of Finance & Technology, an innovative public middle & high school in the South Bronx. Bill taught Math and English at MS 223 for 7 years and currently supports a variety of efforts to expand and sustain excellence at the school.

Bill is a graduate of the Industrial and Labor Relations School at Cornell University.  He also completed a Master's Degree in Public Administration at Cornell.  He then came to New York City to teach and received a Master's in Education from Pace University. Bill is currently finishing a Master's from Bank Street College of Education in Math Leadership.

Amy Nelsen

Amy is a vibrant, magnetic, heart-centered speaker. She effortlessly blends the healing components of movement, sound, energy healing, and practical life skills to offer a tangible approach to finding the balance we all seek in the four pillars of our lives: the mental, the emotional, the physical, and the spiritual. Amy is trained in the holistic arts of reiki, intuitive healing, and NIA.

Amy draws from her more than 25 years of production and event management experience, in a varied genres. She fuses these backgrounds with healing and life management tools as she acts as your compassionate guide.

Her passion for community and global unity sparked the movement she calls the Bravery Brigade. She believes all it takes is one act of bravery to be free of scripted realities, enabling you to find peace.