Limi Valley Sanitation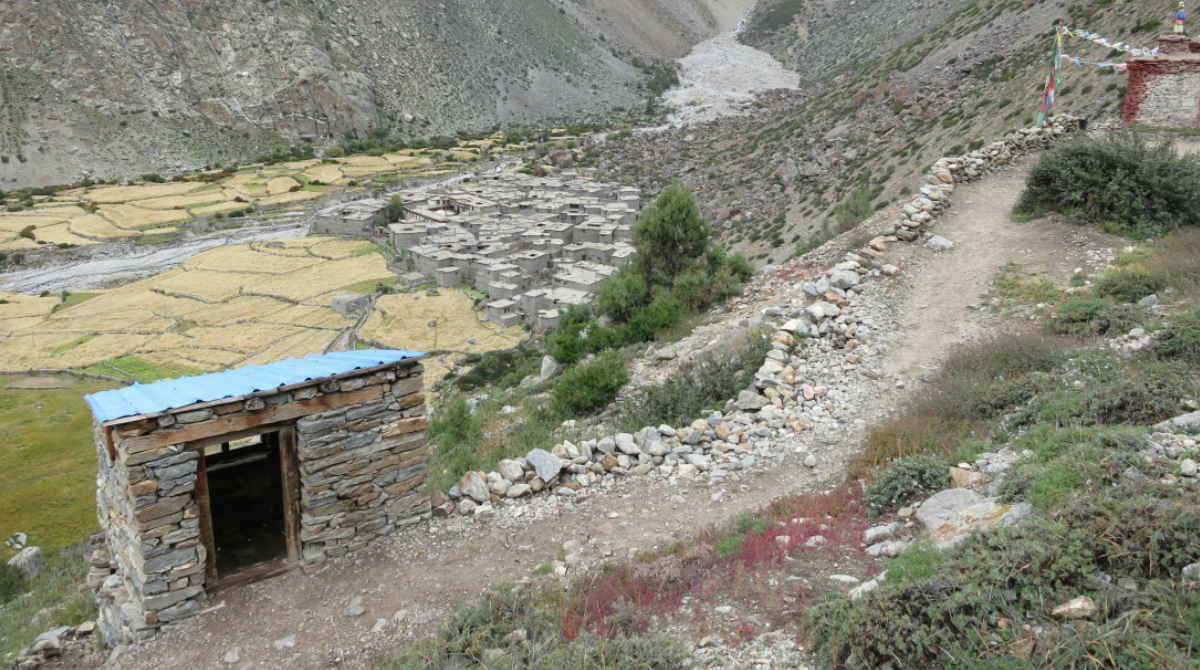 The Problem
Situated in a very remote region of the Limi Valley, three village schools were in desperate need of support for some time. Thanks to the nonprofit Citta, the students receive much-needed assistance. One ongoing problem that they have faced for some time was the lack of any type of sanitation facility for the students at the schools. Being in such a remote region, acquiring the supplies was very difficult.
Located In

Nepal

100

People Served

Funded by

41 Donors
The Solution
Working with the Citta team, we funded the purchasing of the needed supplies and transporting supplies to the region for construction. The finished facilities are simple, dry stone construction with a septic tank.
Donation Team
Scott A.
Carrie-Ann B.
Yolanda C.
Mike C.
Scott C.
Caitlin C.
Lou D.
Laura F.
Marabeth F.
Mary F.
Nunzio G.
Andrew G.
Dennis H.
Jennifer L.
Wendy L.
Amy M.
Carole M.
Jean & Michael M.
Deanna & Carlos M.
John M.
Thomas M.
Andrew M.
Darlene M.
Daniel M.
Warren N.
Anne Marie O.
Joe P.
Trevor Q.
Elizabeth R.
Kristana T.
Sebastien T.
Nicholas T.
David W.
Jeanette W.
Gary & Janet W.
Joseph W.
Dina W.
Leah Z.
In memory of: Anthony G.
In memory of: Mary H.
In memory of: Florence M.
Project Updates
May 2012

We are happy to announce our second partnership with the nonprofit Citta.  Citta has recently been working to help three schools located in the Limi Valley in Nepal.  The region is quite remote and the schools are situated in a trans-Himalayan valley.  They have several major needs, but at the forefront is the importance of a bathroom for the students. We will be providing the funding to construct a bathroom facility similar to some of our past projects.

Dec 2012

Joe just returned to the U.S. after a trip to Nepal and India to check in on some of the projects we're doing in that area.  While in Nepal he met with staff from Citta, the local nonprofit that we are collaborating with for the Nepal Bathroom Project. Back in September, team members from Citta had traveled to the school sites in the Limi Valley where our project will be done. The schools are extremely remote and involves a four day WALK to a height of 4000 meters in order to reach them. Luckily, Joe did not have to make this journey! Due to the logistics for this project, it will likely be Spring of 2013 before work is fully completed. The end result will be a simple toilet facility at three different schools in these small villages where the children currently have nothing. The toilets will be constructed using local materials (such as dry stone construction and a basic septic tank) as there is no easy way to get other types of materials to this location.

Shown here are images of the three schools where the toilets will be built. This is an exciting project for us, working in a very remote region of the world and it is possible through the generosity of our Donation Team funding this project!

Jul 2014

Our Nepal Sanitation Project was one of the most logistically complicated projects we've attempted, but thanks to the dedicated efforts of the team from Citta, work is nearly complete. This endeavor includes the construction of toilets for two different schools located in the remote Limi Valley of Northern Nepal. Work had begun over a year ago when an avalanche buried the school site and everything had to start over again. Citta founder Michael Daube made a recent trek to the site and reported back with some amazing photographs of the nearly finished project. The Halji School has their completed toilet as shown above and the Zang School project is nearly complete. Many thanks to the Donation Team for making this project a success.