Water Tank – Feeding Program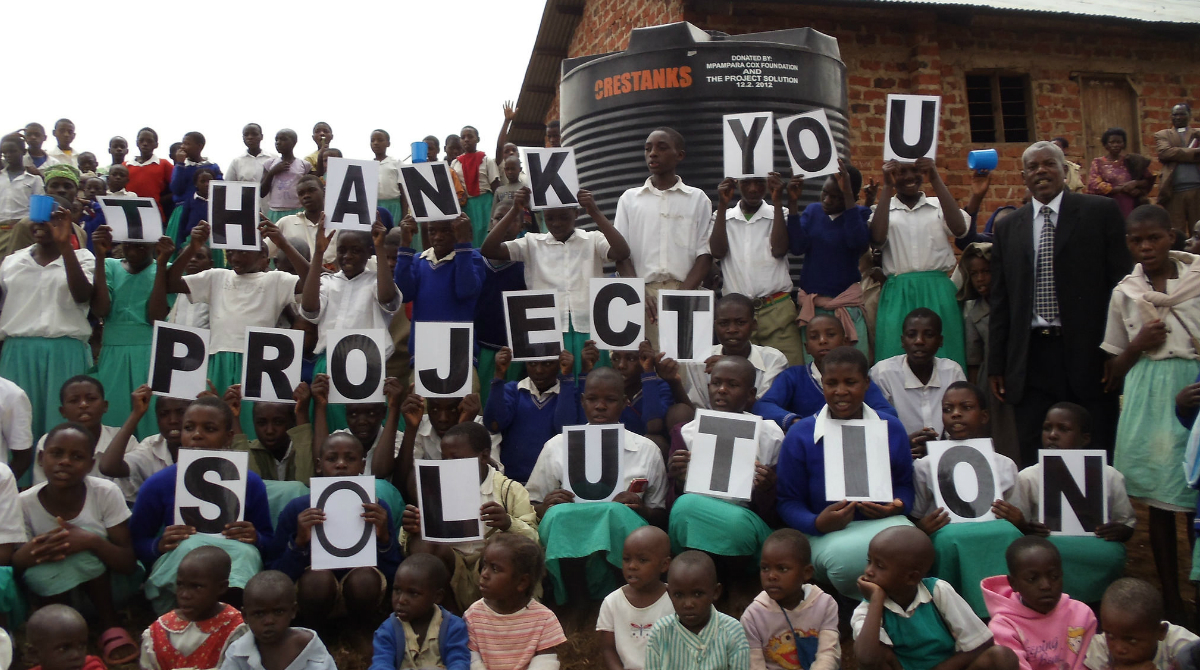 The Problem
Keeping students in school and providing them with good nutrition are two issues facing students in Uganda. The Mpambara-Cox Foundation works to address these issues through their 10:30am Porridge Program. This is a school feeding program that provides a daily meal to children served at 10:30am, Monday through Friday. The focus is on providing nutrition and giving the children an incentive to come to school and to maintain regular attendance. The porridge is prepared and served at government aided schools located in rural locations where most families live on less than $1 a day.
Located In

Uganda

900

People Served

Funded by

51 Donors
The Solution
We provided the funding to install two water tanks with filters to be used for both clean drinking water and for the preparation of the porridge. The tanks were installed in the Kasinde and Nymiyaga Schools in Uganda.
Donation Team
Farrell B.
Tricia C.
Steven C.
Doris D.
Luke F.
Amy N.
Harriet H.
Erika J.
Kevin M.
Patricia M.
Nate M.
Nayda M.
Sybille R.
Toby S.
Florence S.
Christoph S.
Jason T.
James W.
Leo W.
Craig Z.
Team Blue: Mudiwa M.
Team Blue: Elisabeth W.
Team Blue: Emilie T.
Team Blue: Elie H.
Team Blue: Peter H.
Team Blue: Madoka K.
Team Blue: Carmel I.
Team Blue: Celine V.
Team Blue: Maxime A.
Team Blue: Marina R.
Team Blue: Enkel D.
Team Blue: Shadrack M.
Team Blue: Anima D.
Team Blue: Carolina V.
Team Blue: Shaun
Team Blue: Mauricio M.
Team Blue: Jenny M.
Team Blue: Mukund R.
Team Blue: Milton J.
Team Blue: Jon C.
Team Blue: Andrea O.
Team Blue: Heidy M.
Team Blue: Ana T.
Team Blue: Sae K.
Team Blue: Mary O.
Team Blue: Mary Joy A.
Team Blue: James G.
Team Blue: Carolina R.
Team Blue: Matias L.
Team Blue: Peter H.
Team Blue: Daw Y.
Project Updates
Feb 2012

Our partner organization, the Mpambara-Cox Foundation sent us a photograph from the Kasinde Primary School in Uganda where one of the water tanks will be installed. Shown in the photo above are some of the children who will benefit from having the water tanks installed to be used for their daily food program. The children are standing on the approximate spot of their future water tank.

Mar 2012

The first water tank has been installed at the Kasinde Primary School in Uganda! Everyone came out for the big celebration and they made quick use of the tank to get their Porridge Feeding Program under way. If you look closely on the above image, you'll see The Project Solution printed right on the tank.

The Mpambara-Cox Foundation will be running their daily, 10:30am Porridge Program with the nearly 500 students to bring them a daily meal.

Following this installation, there is still one more tank to be set up for the Nyamiyaga School. This will serve another 500 students.

Apr 2012

The Nyamiyaga Primary School is the site of our second water tank installation in Uganda. Just as with the first tank, the water will be used primarily for the morning porridge program run by the Mpambara-Cox Foundation.

Apr 2012

The second water tank made it's way to the Nymiyaga School in Uganda to provide water for the schools' Feeding Program.

The logistics for projects like this are not easy, but many of the local people are working to support this important effort for the school.

The last steps with this project will be the final setup of the tank with fresh water and to start providing meals as part of the morning feeding program.

Apr 2012

The finished tank being installed at the Nymiyaga School.